Monday, July 26, 2010 at 6:00AM
The Blogmother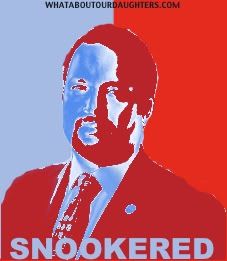 Commemorative Snooker-gate poster by Gem2001.
Now before we begin today's post I want to speak directly to our young readers. I realize we have an audience of teenagers that reads this blog so the Blogmother occasionally likes to pause to offer some words of wisdom lest I lead you astray. It is never wise to bad mouth a former employer. So don't do that. Especially if you identify your former supervisors in a a blog post. It's bad form. A, the people at the company you left don't care that you're bad mouthing them, they are still getting a paycheck. Second, the people at future companies you may work for give you the side eye because you bad mouthed the last place you left.
When it rains, it pours and it's a monsoon over at NAACP headquarters these days. I received in my email inbox a dispatch from a one-time NAACP employee named Amy Alexander. She's a journo who unwisely pursued employment with the NAACP. I love being a blogger, I have an email inbox full of emails from BET employees. I suspect that by week's end, I'll have a few more dispatches from NAACP employees. Keep it coming folks!
I'm torn about Ms. Alexander's post because clearly its the work of a disgruntled NAACP employee, however, Ms. Alexander's blog post is remarkable in that she confirms what many of us concluded about Mr. Jealous with no personal interaction with him. That he is cowardly and passive aggressive. In other words, Mr. Jealous is a freedom fighter who doesn't like to fight. . . unlike Shirely Sherrod and her husband, but that's a whole other blog post. Well anywho, Amy Alexander provides additional insight into the dysfunction at NAACP headquarters, in particular Mr. Jealous' dysfunction and the dysfunction of his communications staff.
DISCLAIMER!
Let me say in advance that I was raised not to make fun of people who have disabilities this includes speech impediments. In addition, there is some discussion about an alleged mental health diagnosis. I do not approve. I think both items are hitting below the belt. We can savage Ben Jealous based on his poor job performance alone. I just wanted to say that in advance lest I get a text message from my Mama after she clicks the link to Ms. Alexander's blog post. I didn't write it MAMA! I'm just linking to the post.
Okay, so now that the PSA is over, pull up some popcorn and soda kids, its time for the show!
First, Ben Jealous hired Amy Alexander to write for him... he should have kept her on, then maybe we wouldn't have gotten "SNOOKERED:
That is how I came to be the Voice of Ben Jealous for much of the summer of 2009. Not the head of the "I-unit" -- which, I soon learned, was being "temporarily" tabled -- but the writer of Jealous' op-eds, and of the Official Statements, and Press Releases for the association. But mostly, between June and August of last summer, I masqueraded as Jealous in the pages of The Nation, U.S. News and World Report,CNN.com, and on several other high-traffic websites. (Check out these enclosed links -- they take you to columns by "Ben Jealous," all reported and written by yours' truly.) Amy Alexander
On the NAACP's dress code in the Washington Bureau:
A truly Vampiric black woman in her late 50s. You know the type -- utterly in denial about the fading of their formerly femme fatalephysique yet still committed to thigh-high skirts and Tx3s -- Too Tight Tops. In Vampira's case, sometimes on special occasions, she augmented this look with 5-inch high heels.....Lucite, see-through heels. That's right, just like those that some hookers and sex-workers delight in. Amy Alexander
That's just cruel!
On the NAACP's public stance on Troy Davis... they had serious doubts about his innocence in private:
It eventually became clear to me that the NAACP couldn't be entirely positive, either, that Davis was innocent. Amy Alexander
And the she goes and says what polite people shouldn't:
Jealous rejected -- according to Vampira -- every opportunity to improve his on-camera performance skills. Yeah, I know -- paradoxically crazy, right?

Because what I saw during Jealous' turn at Maher's desk in June 2009 was a handsome, passionate, articulate black man.....who has a speech impediment. Amy Alexander

Note to self, have every single employee I may ever have sign a confidentiality agreement. Because this mess hey-ah!
So hopefully this is the last swing we'll be taking at the latest dead horse the NAACP has thrown at our feet. But just to demonstrate that I am not the only person who thinks NAACP President Ben Jealous is not equipped to handle the current political, economic and technological environment. You have not one, but TWO NY Times Op Eds this weekend beating him about the head... and did I mention Newsweek has Rev. Al Sharpton sounding like an elder statesman? Heaven help us all:
Later, after officials at the organization had found and released a tape of Ms. Sherrod's entire 45-minute speech, the group's president, Ben Jealous, apologized and said the N.A.A.C.P. had been "snookered."

Black people are in a terrible condition right now — economically, socially, educationally and otherwise — and there is no effective champion fighting for their interests. Mr. Jealous and the new edition of the N.A.A.C.P. have shown in this episode that they are not ready for prime time, and President Obama seems reluctant to even utter the word black. Or poor, for that matter. Bob Herbert, NY TIMES
And more from Maureen Dowd:
And why does the N.A.A.C.P. exist if not to help clear a smeared champion of civil rights who gave a stirring speech about racial reconciliation at an N.A.A.C.P. banquet? Its president, Ben Jealous, shamefully following the administration's rush to judgment, tweeted Monday night that Shirley Sherrod was a racist without even calling his Georgia chapter president or reviewing the N.A.A.C.P.'s own video of the speech. Maureen Dowd, NY Times
Okay so now that we've cleared that up....on to more important matters. I cranked out this lovely Snooker-gate commemorative image for y'all. Do you like it?
You can now purchase your official Snooker-gate beer mug at the Snookered Store.
I whipped this up in about 20 minutes. My personal favorite is the Snookered mouse pad.
Please not reader of TheRoot.com. I know Sherilyn Ifil is a dim bulb and none too bright, but no sane person would actually purchase something from the Snookered store. I INTENTIONALLY made the image of such poor quality and low resolution that it looks like a postage stamp on a T-shirt. TRUST ME, I KNOW how to design t-shirts for sale.
Its a work of political art... but I can always go back and make it high resolution.