Monday, November 15, 2010 at 6:00AM
The Blogmother
Does anybody remember THIS comment from January 9, 2010?
It's clear to me you have no idea how difficult it is for a black woman to make films. The lack of support at the ground floor up is never afforded to us, no matter how hard we lobby on behalf of our projects.. .You have to understand that the Republican party is way more progressive than the film industry! And then when you add race to that mix…Black women DO want to make films. It's insulting to me that you would suggest we don't. Disgruntled WAOD Reader
After I responded to this Disgruntled Reader who called herself "effingfilmaker" she returned to say:
Ugh. Honestly, it's impossible for me to have a serious conversation with someone who feels she's an authority on filmmaking and never made a film herself. Double ugh. Disgruntled WAOD Reader
*Evil maniacal laugh of irony* - I mean the disgruntled reader basically DARED me to make a movie :)
After three years of studying, plotting, concocting, and deconstructing. I finally completed production on my first movie, Namaste. Namaste is the final project in my 14 week filmmaking course. It is a 6 minute "experimental" short. Namaste is a comedy about three Black women's search for peace and the divine in the midst of a chaotic and increasingly intrusive world. Yes, I said it is a comedy. I was forced to write around the limitations from my film instructor and this is like the 15th version of the concept, but I think a much better one visually.
Stills fromt he movie "Namaste," a Gina McCauley Production. SQUEE!
I can guarantee you that nobody is beaten, abused, exploited, or killed in this movie. No Black women were required to yell, scream or cry at the screen in faux OSCAR-by-the-numbers fashion. And most of all, I wanted Black women to look FABULOUS throughout the entire film.
Still from the movie "Namaste," a Gina McCauley Production.
Both cast and crew were comprised of Black women- a Black male will most likely be doing the score if I can get my editing together in time. Woot! They were a complete joy to work with. I was the writer, director and director of photography. I was supposed to just write and direct, but my DP backed out of the project.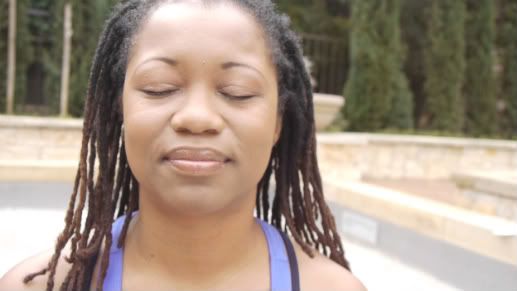 Still from the movie, "Namaste," a Gina McCauley Production!!! SQUEE! Happy Dance!
Strike that, the Good Lord knew I was completely capable of handling the technical aspects of the photography and removed the stone I was attempting to hide behind because I didn't think I could do it. These shots came out amazing and I'm extremely proud of myself and being able to handle the camera myself opens up lots more possibilities for me. I learned a great deal as well like NEVER EVER EVER shoot a digital camera into the sun without a graduated filter :)
I love making movies. I really do. And I'm good at it. Its not a struggle for me and taking the formal filmmaking class was the best thing I ever did because my instructor's process work extremely well for me.
In addition to all of the lessons I learned from a technical sense, this journey really has taught me the value of letting people know what you need. My crew and cast came to me through the Central Texas African American's in Film group. I tend to want to do everything myself, but you can't make an indie movie without asking for help. Even if you had a massive budget, you'd still need to hire people to help.
A big thanks to Veola, Christie, Rochelle, the cast of Namaste.
And super dooper big thanks to Raycheal my assistant director and audio engineer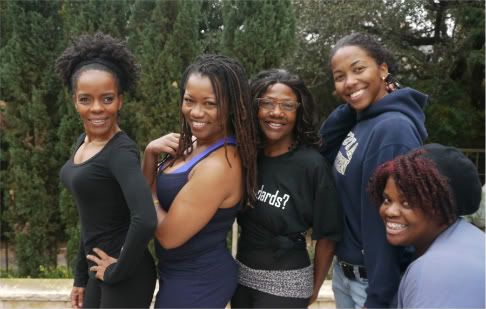 Cast and crew of "Namaste," a Gina McCauley Production. SQUEE!
No, you won't be seeing Namaste anytime soon. I have two weeks to finish post production including the score .
What's next? As soon as I finish my filmmaking course, I start pre production on my next short, a story about Black fairies. I wrote the screenplay for the Shadow and Act Filmmaker Challenge. I didn't win the competition, but I got a screenplay out of it.
Don't forget to like our Facebook Page.
|
41 Comments
|