Thursday, December 3, 2009 at 12:41AM
The Blogmother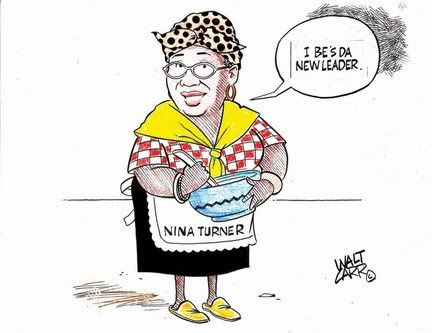 I don't want to see NAACP National President, Benjamin Jealous holding a placard anywhere NEAR a Rupert Murdoch operation until he finds time to have an intern issue a public statement condemning Cleavland NAACP President
George Forbes
for supporting and defending a RACIST attack on a state senator, Nina Turner. Or are racist attacks only racist attacks when directed at Black men?
A black-owned and operated newspaper in Cleveland has grabbed national headlines for running a cartoon that portrays Ohio State Senator Nina Turner as Aunt Jemima. As you can guess, the Call & Post is not a fan of Nina Turner and vehemently disagrees with her on important legislation passed by voters last month. Black Voices
You can't purport to be a "civil rights" organization with a long ans storied history of fighting racist imagery ( back before they lost their minds) and then turn around and have a local president using the same imagery.
The NAACP says they want to hear from you
We'd love to hear from you! The NAACP welcomes your comments.
NAACP National Headquarters

Mailing Address: 4805 Mt. Hope Drive, Baltimore MD 21215
Toll Free: (877) NAACP-98
Local: (410) 580-5777
Call and inquire as to whether the National Office supports this kind of attack on Black women. Of course we know they DO support these kinds of attacks, but you might as well get them on record. No. Moral. Authority!
Hat Tip to Carmen Dixon at Black Voices
Don't forget to like our Facebook Page.
|
15 Comments
|